DXFV is a DXF file viewer compatible with Autocad v12 dxf files. You can use it to view, pan, zoom and take accurate measurements using snap to end or intersection.
DXFV is compatible with: PALM OS 4.1 and higher PDAs/Smartphones, with CF/SD card or Memory Stick.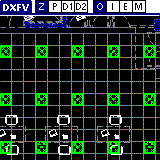 With the DXFV on site view and comparison with the drawings becomes easy. No need to carry tons of drawings from your office and taking measurements using rulers! You just move your dxf files to a CF/SD card or Memory Stick, connect it to your PALM and you are ready to check and measure everything on the site!
Main features of DXFV:
Full zoom in/out/extents capabilities.
Pan.
Layer activation/deactivation.
Accurate dimensioning with
Snap to end/intersection/middle or no snap.
Dimensioning accuracy control.
Zoom in/out control.
Black or white background for drawing view.
Download a 30 days evaluation copy of DXFV and forget the paper mess and the inaccurate measurements!
Copyright (C) 2001-2004
Last update: 01/30/2004
Trademarks appearing in this site are property of their respective owners.